South Africa – March 2016:
Day 1: We landed in Johannesburg at noon after a 10-hour transit in Istanbul and a 9 hour flight. We were exhausted but excited. We went directly and picked up our rental car – this year we were in for a long ride. We were in the car at 13:30 and had a 6-hour drive ahead of us, making our estimated arrival time 19:30, yet we did not arrive at the lodge until 22:00. Note to self, do not take your GPS to seriously, it is NOT always right. After we finally made it to the camp we had delicious lamb curry for dinner, a glass of wine and a glass of Amarula by the fire (this is a must). After dinner we went directly to bed, for a well deserved good nights sleep.
Day 2: We woke up to bird songs at 05:00 and it was time for our morning drive. We quickly got dressed, grabbed a cool drink and headed out for our first adventure. We had just gotten out from the camp when we drove past an old dead tree, we got closer and saw mongooses sticking out everywhere, it was almost like they were putting on a show for us. We drove on further and saw plenty of kudu, steenbok, waterbuck and 3 rhinos. It was a great first morning. We returned back to the camp around 09:00 for a great breakfast, which I remember vividly because it was a wrap with eggs, vegetables and hot dogs. Now, I am not a big fan of hot dogs but as it turned out they were the exact same as the only kind I eat, the Icelandic ones (Yay!!). We spent the rest of the day by the pool, where both of us got sunburnt (Note to self, better yet, note to all Icelanders, 15 SPV is not sufficient for Africa). In the afternoon we went on another game drive. This time around we saw plenty of elephants, they completely surrounded the car, both youngsters and full-grown bulls, it was AMASING. We also saw plenty of zebra, giraffe and 3 buffalos. We returned to camp around 20:00 for a delicious dinner and wine.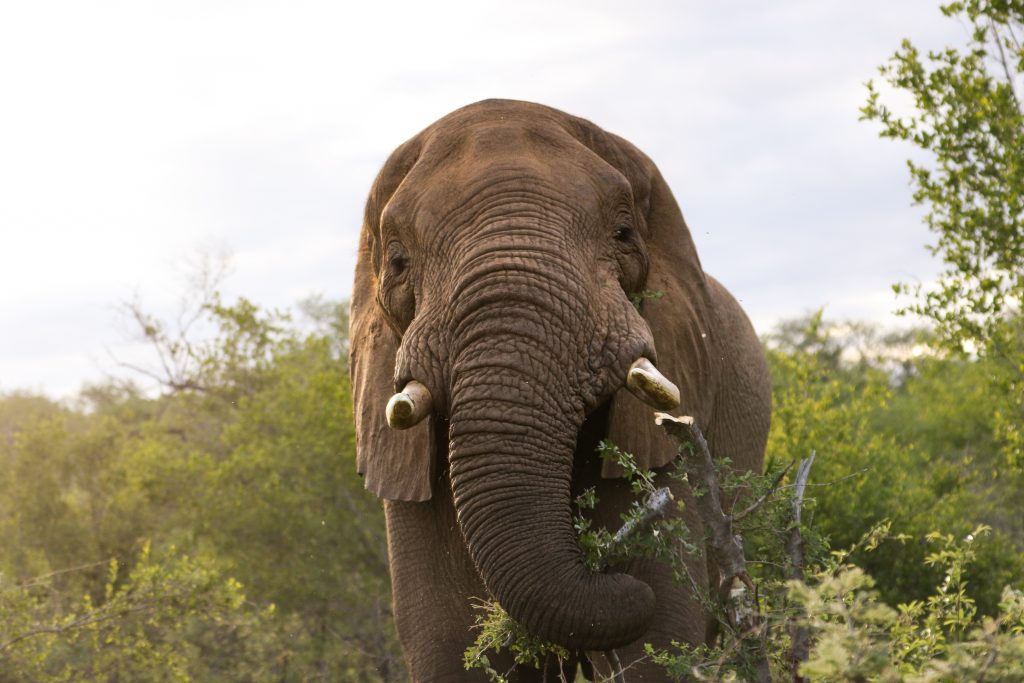 Day 3: At 05:30 our morning safari began. Shortly after going out we saw a leopard in a tree. Now we were only missing the lion from the big 5; we had seen an elephant, a rhino, a buffalo and a leopard. Unfortunately the sun was not in our favor, so we only got a silhouette photo, but the memory is in full-blown color. When we returned to camp, a typical South African breakfast awaited us; scrambled eggs, polenta and spicy hot dogs. Due to sunburn from the day before and laziness, we napped until noon. It was an extremely hot day, I wont go into detail but my top lip was even sweating. On the evening game drive we saw kudu, impala, buffalo, elephants, giraffe and rhino. We returned to the camp for a delicious meal and PLENTY of wine.
Day 4: Our guide woke us up as per usual at 05:00 for our morning drive, but due to wine the night before and partly due to lack of sleep (okay mostly due to wine), we decided to skip the morning drive. Instead we woke up to a delicious full American breakfast at 10:00. Feeling guilty about the missed safari, we asked the other guests how their drive was. Apparently the morning was slow and we did not miss much, we concluded that we were the lucky charms. We left this lodge just before 11:00 and headed to our next lodge. On our way we stopped for lunch in a lovely little restaurant overlooking the Oliphant's river, there we had a great meal while looking at the hippos down below. This time the drive went well and we arrived at the new lodge just before 14:00. The 1st night we were the only 2 people at the lodge, how lucky! For this reason we had a special request to spend our evening game drive by the river. At 16:30 we headed out on our special game drive, with us was our wonderful guide, camping chairs and cool white wine. We set up on the bank above the river and got comfortable. We couldn't have been luckier because while relaxing by the river we saw lots of hippos, a crocodile, waterbucks, impala, elephants and a giraffe! It was the most memorable night. Around 19:30 we returned to the camp for a meal that will make you gain weight just by thinking about it; for a starter we had shrimp, for mains we had grilled beef fillet and for desert we had a cheesecake. At 23:00 we retired to bed for an early morning. This was the perfect first day at the new lodge.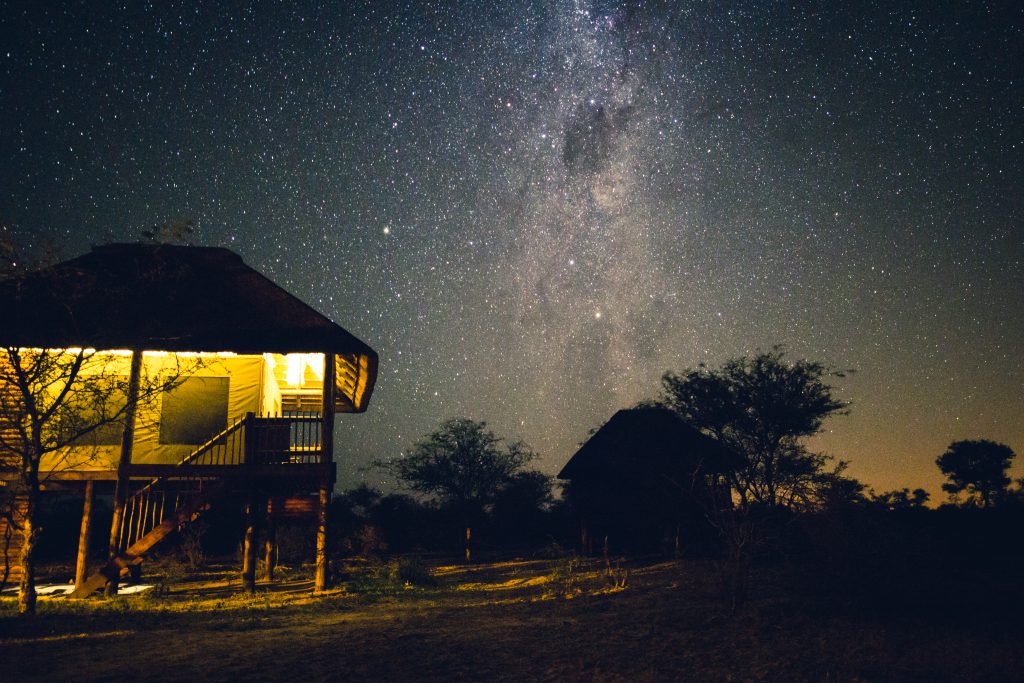 Day 5: Again we woke up at 05:30 and got ready for our 06:00 safari. We stepped out into the cool breeze and were excited to see what the day had to offer. We had barely gotten through the gate when we saw a herd of 10-15 giraffes, all of them posing nicely for a picture. After observing the giraffes for a while we continued on and saw beautiful big kudu bulls, waterbuck, impala and zebra. On our way back we drove over a pipe buried in the road, immediately 3 adult warthogs came running out, backside first! I love how their tail goes up like an antenna when they are running off. After our morning drive we came home to a delicious breakfast. At noon we had booked a massage, it was wonderful getting a relaxing massage on the veranda and we completely recharged our batteries. It was a very hot day today and after the massage, we spent most of it by the pool where we could watch the waterhole as a herd of 10 elephants came to drink. One of the elephants was particularly fond of the Marula tree in the garden and almost broke the gate trying to get in! In the afternoon we had a lovely safari with a new couple from Germany who had just arrived at the lodge. We saw an injured hippo, giraffe, elephants, impala, kudu, baboons, vervet monkey and water buck. After returning back to camp and having a delicious dinner we spent an hour on the veranda admiring and taking pictures of the amazing stars.
Day 6: We went out for our morning safari, today we had a special treat! We drove up a small rocky mountain, what our hosts and we like to call "Small Mount Kilimanjaro". There we stopped at the top and had our morning coffee while we looked over the plains below, "Small Serengeti", and spotted some giraffes, waterbuck, warthogs and impala. After everyone had finished their coffee we drove down to the plains to have a closer look at the animals below. I quickly realized that the smallest things on safari in South Africa can excite you  as I found myself and my boyfriend staring in amazement at a little dung beetle rolling her ball around instead of looking at the other animals surrounding us. We spent the rest of the day relaxing by the pool with a cool drink in hand and watching the elephants stop by to have a drink from the water hole just beneath the pool. At 16:00 it was time for our evening game drive where we saw elephants, giraffes, hippos in the river, waterbuck and impala. We returned home for a glass of Amarula by the fire followed by a delicious 3-course meal. Tomorrow we had a different plan; we planned to go to the Kruger Park for a little self-drive.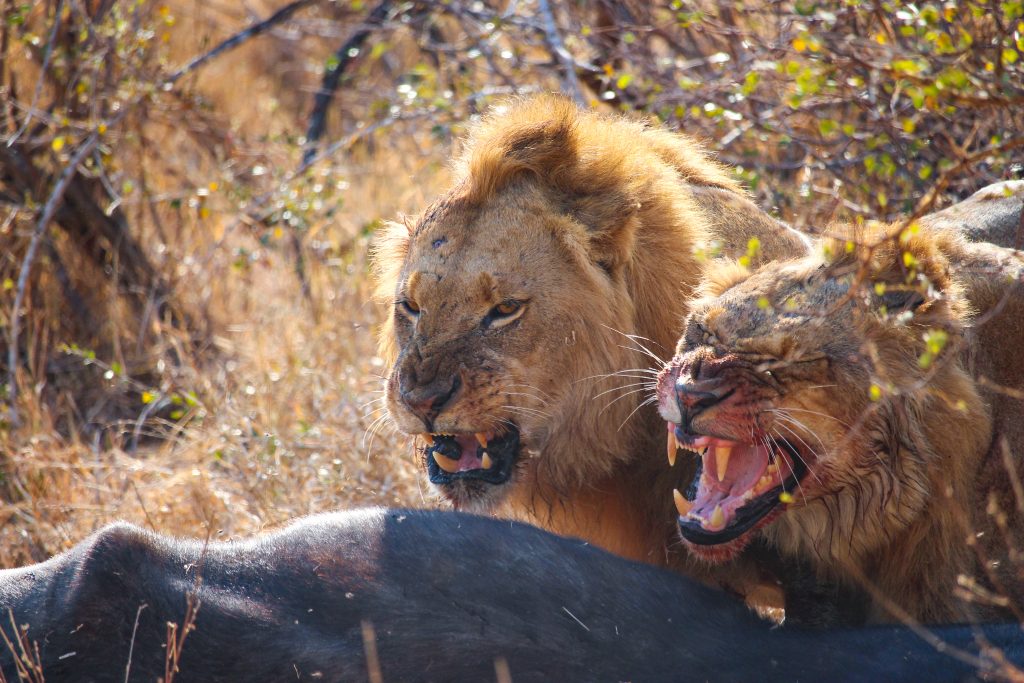 Day 7: We woke up at 04:30 so we could be at the entrance gate to Kruger Park before 06:00. We were very tired but excited about our daytrip. Once inside the park our first stop was the first waterhole, as it was known to be the home of a large leopard we wanted to try our luck there. We waited for about 20 minutes but then our patience faded and we gave up on seeing this big leopard. We continued on and saw lots of animals, waterbuck, impala, buffalo, giraffes and elephants. Just before noon when we were heading to a rest stop to have lunch we drove over a pipe in the road, something came running out. I was sure it was just a warthog but my boyfriend was sure it was a hyena. Since his eyesight is trustworthier than mine we decided to shut off the engine and see if this mysterious animal came back and they did! As it turns out he was right, the mysterious animal was a baby hyena, in fact 2 baby hyenas. We were ecstatic as hyenas are one of our favorite animals. Afterwards we went for our lunch and then continued our drive. At 16:00 we started heading back and saw a giraffe drinking from the river, he looked incredibly clumsy and awkward and wasn't particularly happy about us photographing him. We came back to the lodge around 18:00 where we relaxed until it was time for dinner. We retired to bed around midnight and fell asleep as soon as our head hit the pillow.
Day 8: Today we considered sleeping in but quickly decided against it as it was our last morning safari. We got dressed and stepped outside, it was a beautiful morning and the sun was just beginning to come up. It was the perfect last day, not to busy, but still plenty of wildlife around. After our morning drive we came back and completed our packing. We settled our bill and thanked our host for the most wonderful stay. Now it was time to explore more of the South African scenery, which involved plenty of driving. The plan was to stay in Nelspruit for 1 night, Pretoria for 1 night, Bloemfontein for 2 nights, Port Elizabeth for 2 nights, Mossel Bay for 1 night and finally ending our trip on a weeks stay in beutiful Cape Town.
Gunnhildur Erla
Photos by Gisli Birgir Sveinsson