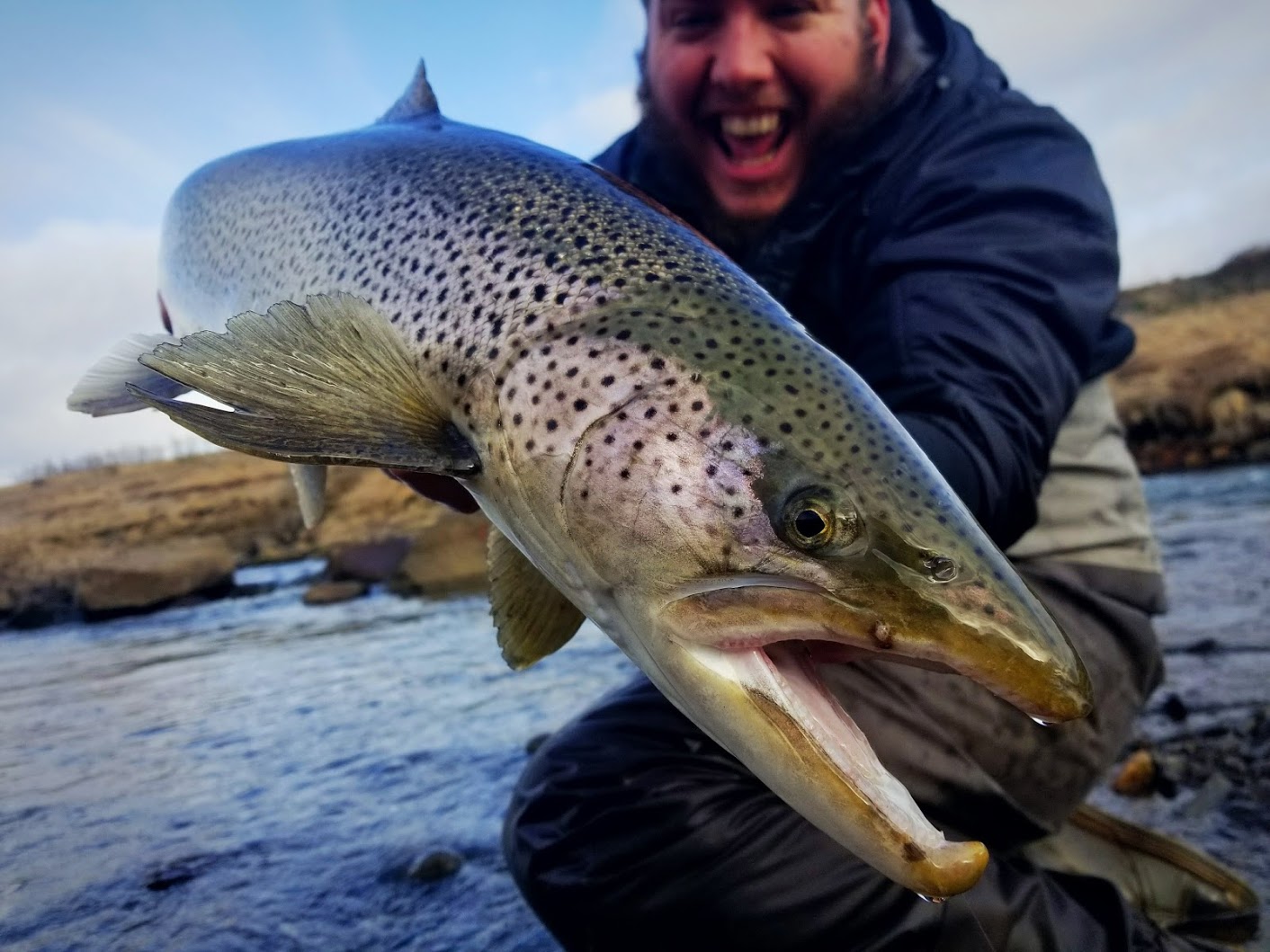 River Leirvogsá is one of the best salmon rivers in Iceland but it has an excellent stock of sea trout as well.
The sea trout can be up to 10 pounds but the average size is around 3 pounds.
In the spring of 2018 we experimented with the fishing of the sea trout and it was a great success.
Every time we tried fishing we caught something and even up to 20 sea trout in few hours.
We will be offering the sea trout for general sale in the spring of 2019 for the first time. This is a good chance to catch sea trout in a river only 20 minutes from downtown Reykjavik.
The sea trout season will be open from April 15th – May 15th in 2019.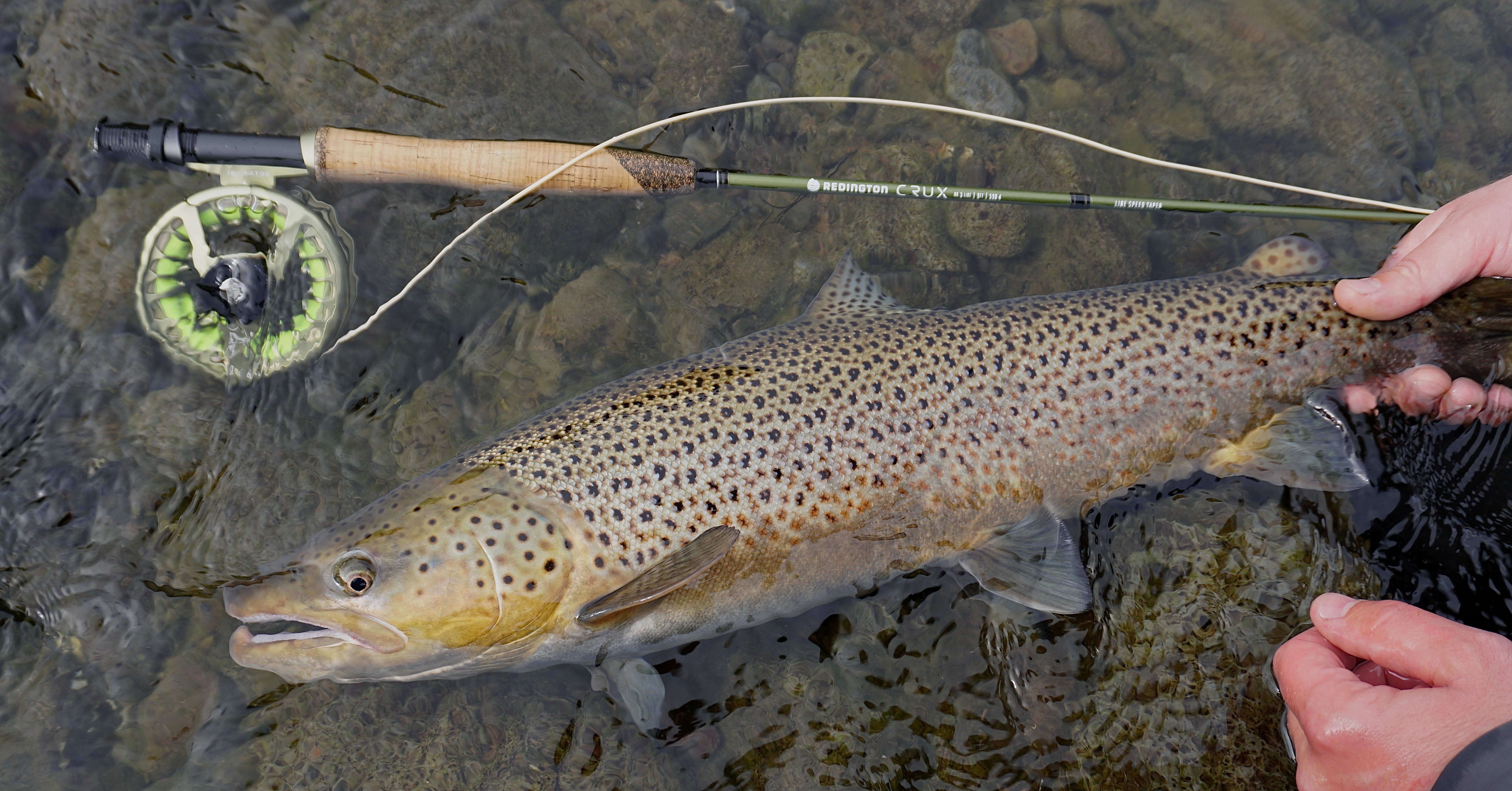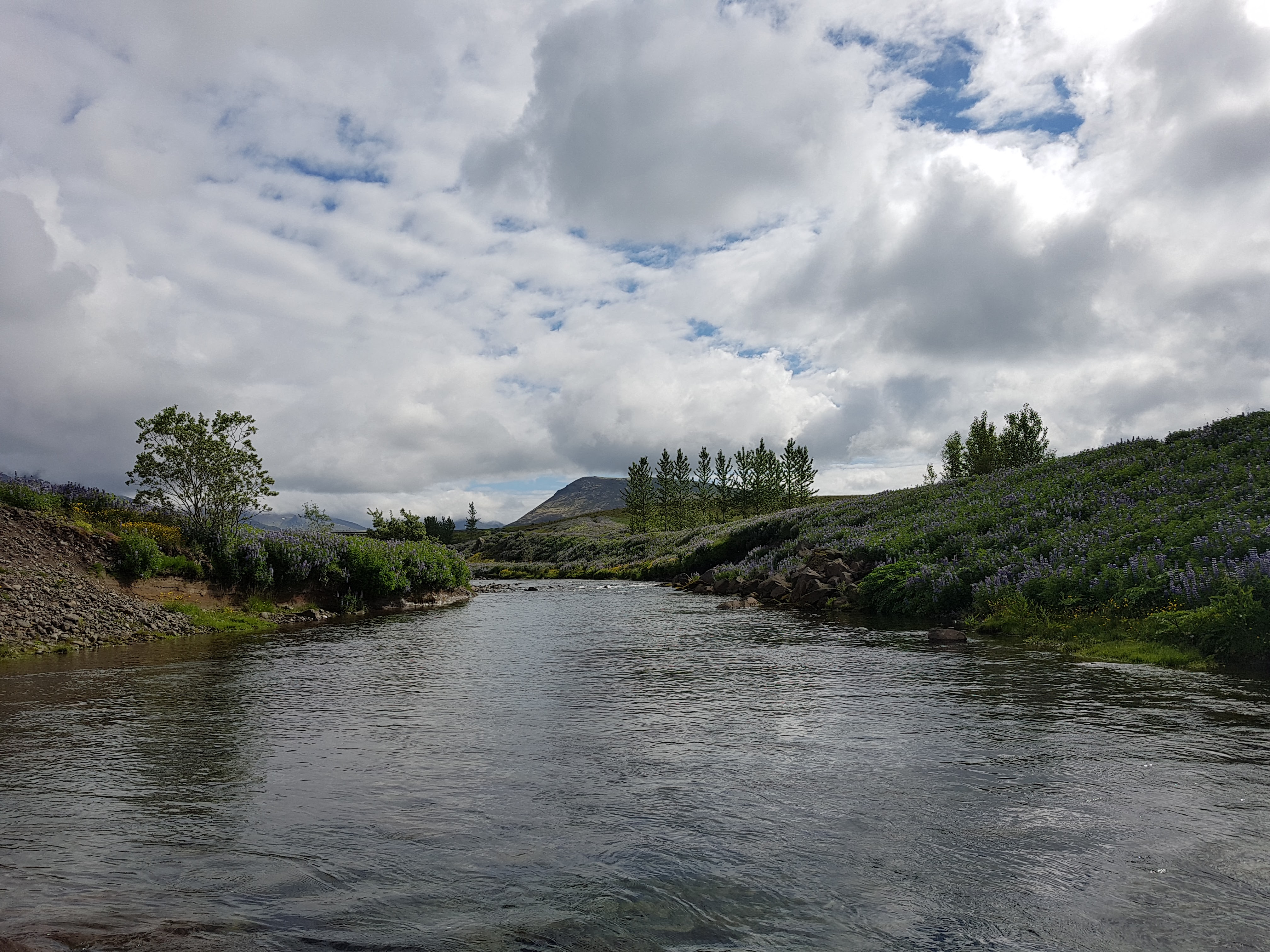 River Leirvogsá is within the city limits of Reykjavik only about 15-25 minute drive from downtown depending on traffic. This location means that you can have the best of both worlds- stay in a luxury hotel in Reykjavik and dine in fine restaurants in the evenings but still fish one of the best rivers in the country.
Even though Leirvogsá is close to the city it is very secluded and calm, in the upper canyons you will be absolutely alone in nature with the only noise the gentle sound of the flowing river.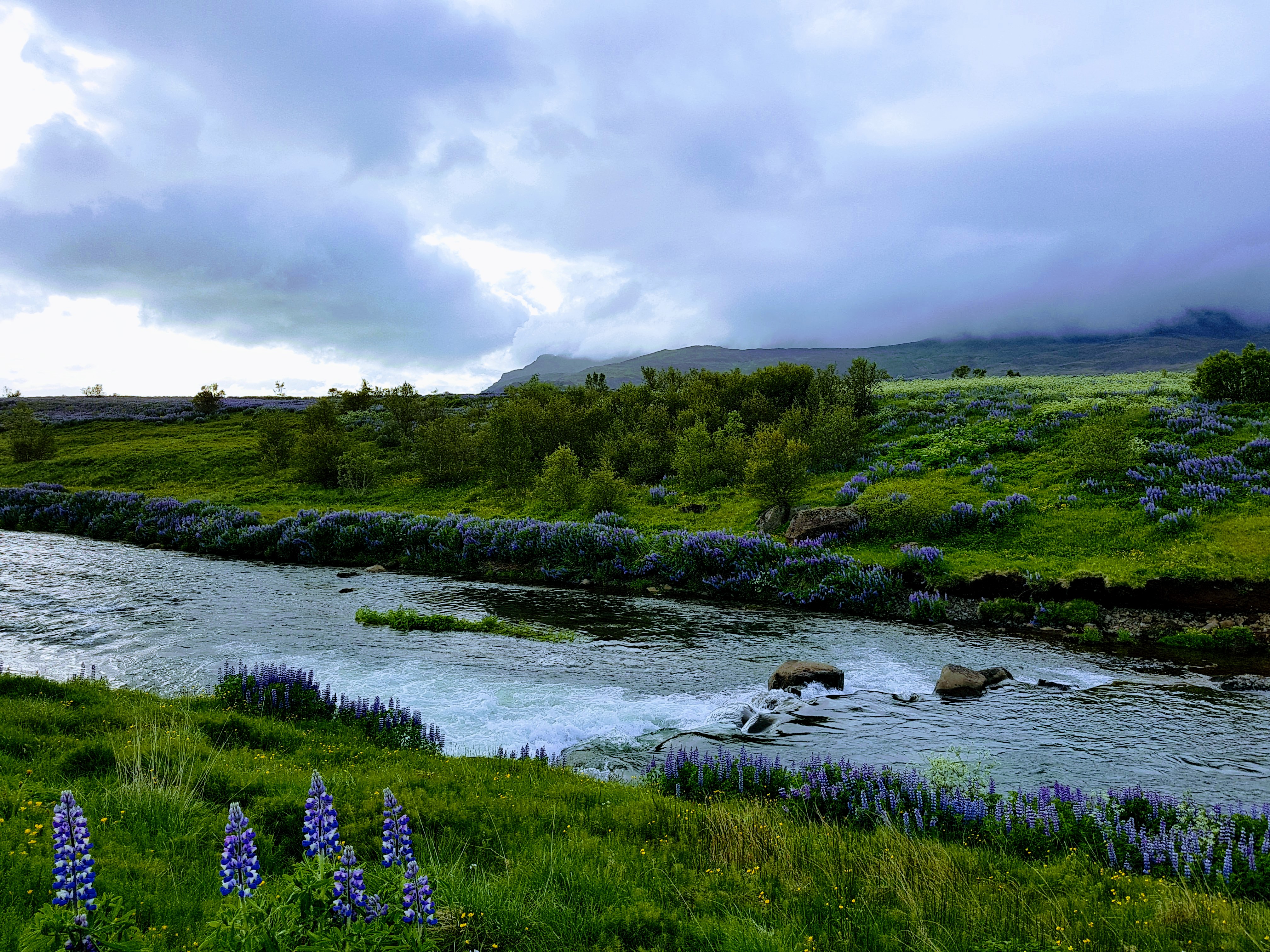 Leirvogsá originates in lake Leirvogsvatn 12km from the ocean but the salmon cannot pass the magnificent waterfall "Tröllafoss" which is the topmost pool in the river.
From the waterfall the river flows in gorgeous canyons until it reaches the farmstead "Hrafnhólar", from there on the river winds down the valley gently with numerous beautiful fly pools to choose from.
The lowest part of the river consists of faster water, with deep pools which have been the most productive in the river, especially when the salmon run in big numbers.
The sea trout fishing takes part in the lower part of the river from pool: "Helguhylur" and down to the river mouth.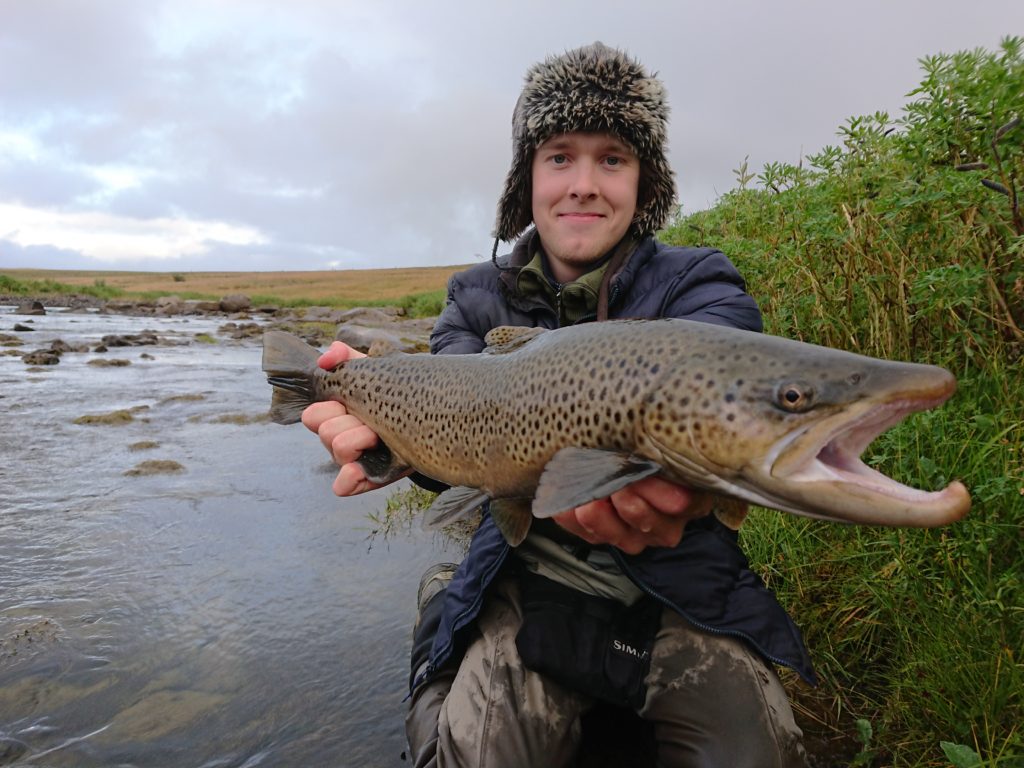 Location: South West Iceland, In the outskirts of Reykjavik.
Leirvogsá river, about 10 km from Reykjavik.  To get there from Reykjavík, you drive through the town of Mosfellsbær on to highway one.
You cross one bridge and then another, just after you cross the second bridge you turn right and drive on a gravel road until the fishing cabin. For exact location please refer to the embedded Google map.
Rods: Two rods
Fishing season: April  15th to May 15th. FLY ONLY.  All sea trout must be released and Kelt salmon as well.
Prime time: April 15- to May 15th
Guide: One for every two rods
Lodge: Old lodge only for lunch breaks. Accommodation can be arranged either in a hotel in Reykjavik or the nearby town of Mosfellsbær (5 min drive)
Fishing hours:
8-13 and 14-20
Best flies:
Black Ghost, Nobbler, Mickey Finn, The Dentist, Red Frances, Sunray Shadow. Various other streamers and nymphs.
Map: Leirvogsá Map
Clothing: In spring time in Iceland the weather can be quite harsh. You should bring warm clothing and, most importantly, quality rain wear and a windcheater.
Please check out the average temperature table here below.
Chest waders and wading shoes.
Tackle disinfection: Iceland has always been free of diseases like UDN and Gyrodactylus salaris and we intend to keep it that way.
There is a strict policy of visiting anglers having their tackle sterilized before coming to Iceland.
This should be done in a 2% formaldehyde solution for 10 minutes and performed by a veterinary surgeon. Tackle sterilized in Virkon S is also acceptable.
A signed inventory of what has been sterilized should be provided by the vet for presentation to the customs officers at Keflavik airport.
The most important items to be treated are: rods, reel/line, waders and flies.
The process can be carried out by staff at Keflavik airport. The office is located at the far side of the baggage reclaim hall, downstairs in the airport.
Just notify one of the personnel in the area that you need your tackle disinfected and they will have a member of the staff come and complete the process. The price for one fishing set is 3.500 Icelandic kronur.
Flights
There are many airlines that offer a scheduled flights to Iceland, below are the Icelandic ones:
Icelandair, www.icelandair.is
Wow Air, www.wow.is
Documentation & Visas
Citizens from the European Economic Area (comprising the EU, Switzerland and Liechtenstein), US and Canada need only to have the pass valid for three months after the date of departure from Iceland.
Currency: Icelandic Krona. Visa and Mastercard credit cards and Maestro and Visa Electron are accepted widely.
Language: Icelandic, but most Icelanders speak English as well.
Electricity. Most facilities operate on 220-volt, 50-cycle system. A Converter will be necessary for any electrical items that require a 110-volt, 60-cycle system.
Good to know:
Daylight                            Sunrise                                Sunset
May                                     3:55 AM                            10:12 PM
June                                    2:42 AM                            11:32 PM
July                                     3.23 AM                            11:00 PM
August                                4:58 AM                             9:22 PM
September                          6:29 AM                            7:33 PM
October                              7:55 AM                             5:48 PM

Average temperature: °C                                            °F
May                                        7, 2                                44, 9
June                                      13, 1                               55, 6
July                                       15, 2                               59, 4
August                                  13, 3                               55, 9
September                            13, 0                               55, 4
October                                 6,1                                   43,0
In case of an emergency dial 112, but guide and lodge staff will be in assistance for any problems that might occur.
If you want to hire fishing equipment, please send us the name and the shoe-size for each individual. And please let us know if a single or double handed rod is preferred.
Please note that fly casting instruction can be arranged by your guide: please let us know to give him advance time.
---
Staðsetning