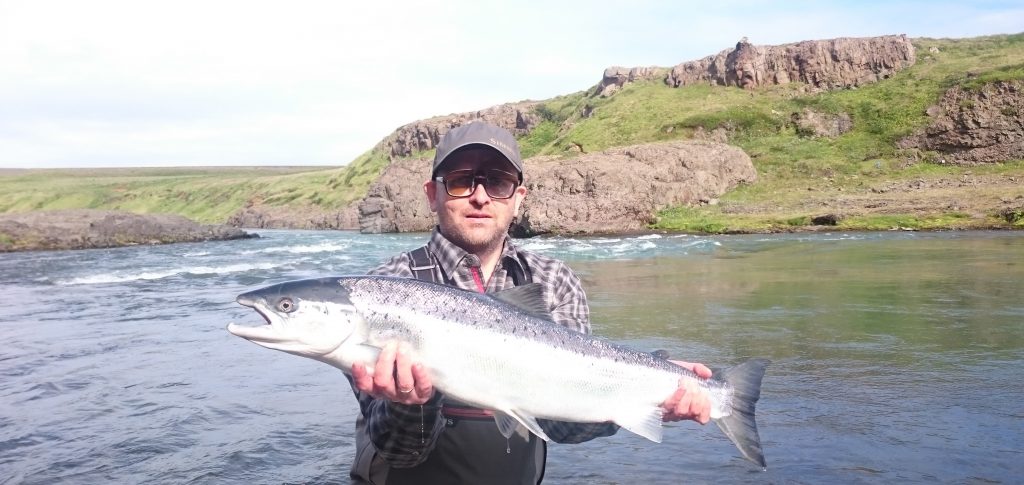 Salmon fishing in Iceland
Salmon fishing in Iceland is considered some of the best in the World. With over 200 rivers to choose from in all sizes you will be spoiled for choice. Most of the rivers in Iceland are gin clear and perfect for fly fishing.
The history of fly fishing in Iceland dates back to the 18th century when the first anglers from Great Britain ventured over to fish.  What they found was a fishing paradise with many rivers filled to the brim with salmon. Before the locals had only used the rivers as a resource for fresh salmon which was caught mostly in nets.
Many Splendid rivers!
Lax-A offers many splendid rivers for salmon fishing in Iceland. We offer both rivers with full service option and  rivers with a self – catering lodge. Lax-A is Iceland's largest outfitter with over 30 year experience in the business.
Self-Catering rivers are sold with on a license and lodge basis only. You will have to bring a sleeping bag (duvets and made up beds can be ordered) and all food for your stay. In the lodge there is a kitchen with all amenities so that you can be self-sufficient in cooking your food. There is a fridge and on the patio there is a BBQ. In some lodges there is a Jacuzzi.
Full Service Rivers are inclusive of a room in the lodge and full board. Full board consists of: breakfast, lunch and dinner. Drinks are not included but can be bought at the bar.
Good to know
Fishing hours:  June 5th – August 20th. 16-22 and 7-13. From August 21st – end of season 15-21 and 7-13. The Ranga rivers fish from 15-21 from August 1st.
Prime time for fishing: Is considered July 15 – August 15th when the runs are at peak.
Bring with you: Warm layers of clothing, in Iceland you never know how the weather is going to be and it can change hourly. Fishing gear and waders. Please remember that fishing gear and waders needs to be disinfected at the airport when you arrive.
Tight Lines and Welcome to Iceland