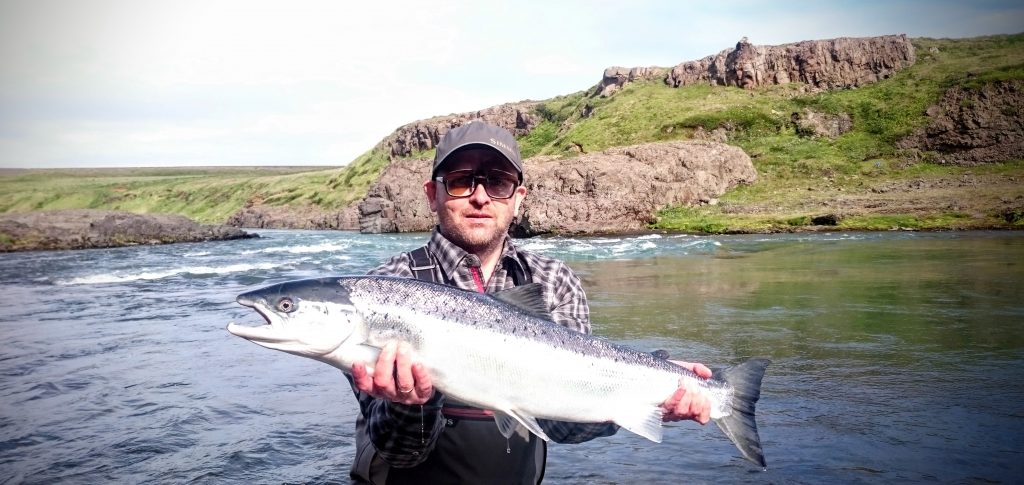 Iceland has a rich tradition of salmon fishing and is considered one of the best places in the world for catching Atlantic salmon.  In the old days locals used predominantly nets to catch salmon for food. Owning a land to a productive salmon river was considered very important as then you had access to fresh salmon in the summer. In the 18th century the first fly anglers arrived in Iceland from Scotland and England to practice fly fishing. They even hired the fishing rights from the farmers to gain sole access to the best rivers.
Salmon fishing in Iceland is today a very popular sport for anglers the world over. The rivers in Iceland are usually gin clear and on the smaller side, there are larger rivers which are suitable for a double hander such as the Ranga Rivers and River Blanda.
The Season in Iceland 
River Blanda opens on June 5th and most rivers close late September. The Ranga rivers are usually open until October 15th.
Fishing hours
From June 5th to August 20th fishing hours are from 16-22 and from 7-13. There is a lunch break from 13 -16. From August 21st to the end of the season the first shift starts at 15:00 and ends at 21:00. The Ranga rivers change to the earlier date on August 1st when the fishing hours there will be from 15-21 and 7-13.
The Rivers
Laxa-A offers both self catering and full service options when it comes to accommodation. The smaller rivers like: Stora Laxa, Svarta and Langadalsa have a self – catering lodge. In a self catering lodge you have to bring a sleeping bag and all food.  The lodges have a well equipped kitchen with a fridge. On the patio there is a BBQ.
The full service rivers are inclusive of accommodation and full board – breakfast, lunch and dinner.