Not quite, but still with the opening of the season around the corner we feel just like kids before Christmas…
The trout fishing season in Iceland starts in just a week from now when many rivers and lakes open for business. April is a prime month for sea-trout fishing and the opening slots in many of our top sea-trout rivers are sold out way in advance.
The sea-trout is one of the best fighting sport fish in the world and i personally have difficulty in choosing between the sea-trout and the salmon. My most memorable fish up do date was a sea-trout. It was not my largest fish by any means, measured about 4kg. But pound for pound that fish gave me the hardest fight i have ever had. I swear that there was smoke arising from my reel as he took almost all of my backing out. But then all of a sudden he gave up and went tame as lamb.
That is the real difference between the Sea-Trout and the salmon. One of them is a sprinter and the other more of a long distance runner. The Sea Trout uses all his energy in the beginning with explosive bursts but the Salmon fights in a more moderate way for a longer time.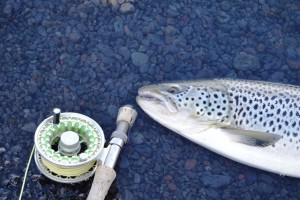 I can't wait to go fishing. Just can't wait. And then the summer is just around the corner with the opening of the salmon rivers . I am just like a kid before Christmas. Join me for some fun this spring and summer.
Tight lines
Johann David – jds@lax-a.is