The drive up to the Westfjords takes about three hours along astonishing nature and across many salmon rivers. I was lucky to fish the opening weekend in 2014 together with my colleague Jóhann Torfi. We left Reykjavik the night before the first day of fishing. We stopped at the supermarket and bought food, a couple of beers and with our car all fueled up we began our road trip.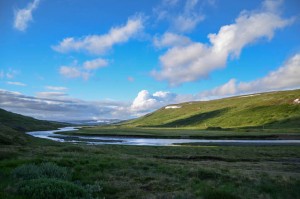 The midnight sun spreads a beautiful orange glow over the landscape and as soon as we arrive to the self-catering lodge that's located right next to the river, we park the car and take a look at the river. It runs trough the beautiful canyon and the gin clear water really triggers a fisherman's mind. Exited and a bit hungry we go back to the lodge, start the barbeque and jump in to the hot tub.
After sharing a great peace of barbequed lamb, a couple of beers & great fishing stories (all of them are of course true), we go to sleep.
The weather is sunny and with some clouds in the horizon, and we are soon at the first pool of the day. Jóhann offers me to go first, and without hesitation I jump in. I fish with my single-handed 7weight rod, and the fly of choice is a light-weighted colliedog that goes well with my floating line. I fish down about 50 meters and then it happen…
I feel a solid strike and the fish takes of in great speed. Jóhann, who's probably regretting that he let me fish first, sees the silver shining further down in the pool. He also tells me that it might be a good fish and after a 50 meter run, I feel confident enough to agree with him. The fight goes on and for every meter I gain on it, it takes the double from the reel. I have to walk down the pool in order to try to land it on the shallow part right before the next pool begins.
The salmon is tired out and I'm able to land it in the fast water, I give Jóhann the rod and jump in the water. I grab it by the tail and feel the solid silver body in my hands. The happiness is overwhelming; I'm like a child on Christmas.  Jóhann drops the rod and takes up the camera again. This is the most beautiful fish that I've caught during the season of 2014 and I will remember this day for the rest of my life.